WHERE THOUGHTS CAN SOAR FREE
hartmanns is a modern business platform, a place of encounter, and a venue for hire at the heart of Munich. For executives, opinion-shapers and visionaries who believe in the power of a change of perspective, hartmanns provides a secluded, sensitively designed space where in-depth exchanges of ideas and urban networking can develop, plus a spacious rooftop garden overlooking Munich's major landmarks as the perfect place to unwind.
OUR PEOPLE & OUR SERVICES
Designed by entrepreneurs, hartmanns is an expansive yet highly personal location tailored to the needs of an international business community. From business and off-site meetings to conferences, these versatile spaces allow every event to set its own individual tone. Discerning event organizers will appreciate the passion for service shown by the hartmanns event team.
The team works together to be available around the clock, addressing our guests' needs with professionalism and extensive expertise in event management and service provision.
hartmanns is for decision-makers who love to let their ideas soar and draw on their environment as a source of inspiration.
hartmanns is for visionaries seeking a place where their ideas can expand and grow.
hartmanns is for thinkers and doers, groups and individuals – for people seeking to achieve great goals and experience beautiful things.
hartmanns is for businesspeople who love to work in a stylish, yet secluded atmosphere.
hartmanns is for everyone that longs for a place of encounter with like-minded people.
ROOFTOP POP-UP with GAUCHERE, VICTOR FOXTROT & STIEBICH RIETH
The hartmanns is the perfect location for stylish events.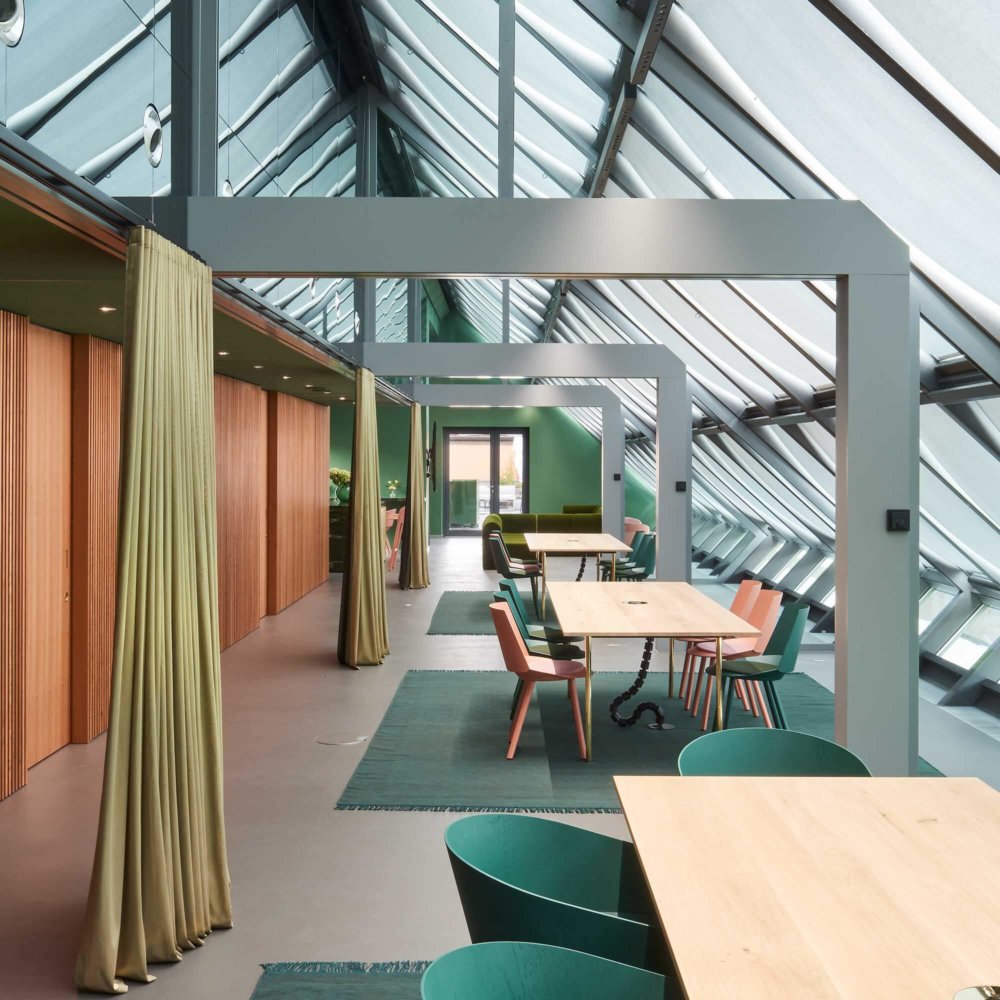 The bright space of hartmanns Indoor Campus, with its contemporary glass architecture, combines with the interactive design of the Outdoor Campus to create a location that focuses concentration, inspiring teams to develop new mindsets and create innovations.
The attractively designed indoor space can be divided into three soundproof conference rooms equipped with state-of-the-art technical facilities and offering spectacular views of the Munich sky – often echoing the traditional Bavarian colors of blue and white. All three rooms can be combined individually or together for maximum versatility that extends to large-scale events.
This flexibility enables hartmanns to tailor its space to our rental clients' needs in terms of amenities and area – without impeding the attractive, modern design concept.
The contemporary conference rooms are complemented by the elegant Indoor Lounge with catering space, underlining hartmanns' role as a location for networking and socializing.
ROOFTOP GARDEN
PRECIOUS SHOWPIECE & URBAN NATURE
Roof gardens have long been known to make urban living a more attractive, more ecological, and healthier proposition. The lushness of the lavish green space high over the city at hartmanns Rooftop Garden is an inspiration for busy executives and decision-makers as they shape today and tomorrow, and also symbolizes an element of success in today's new world of work: watching the process of growing and thriving – and even taking part! – is a motivating factor for personal success, and an overarching component of all modern management and motivational theory.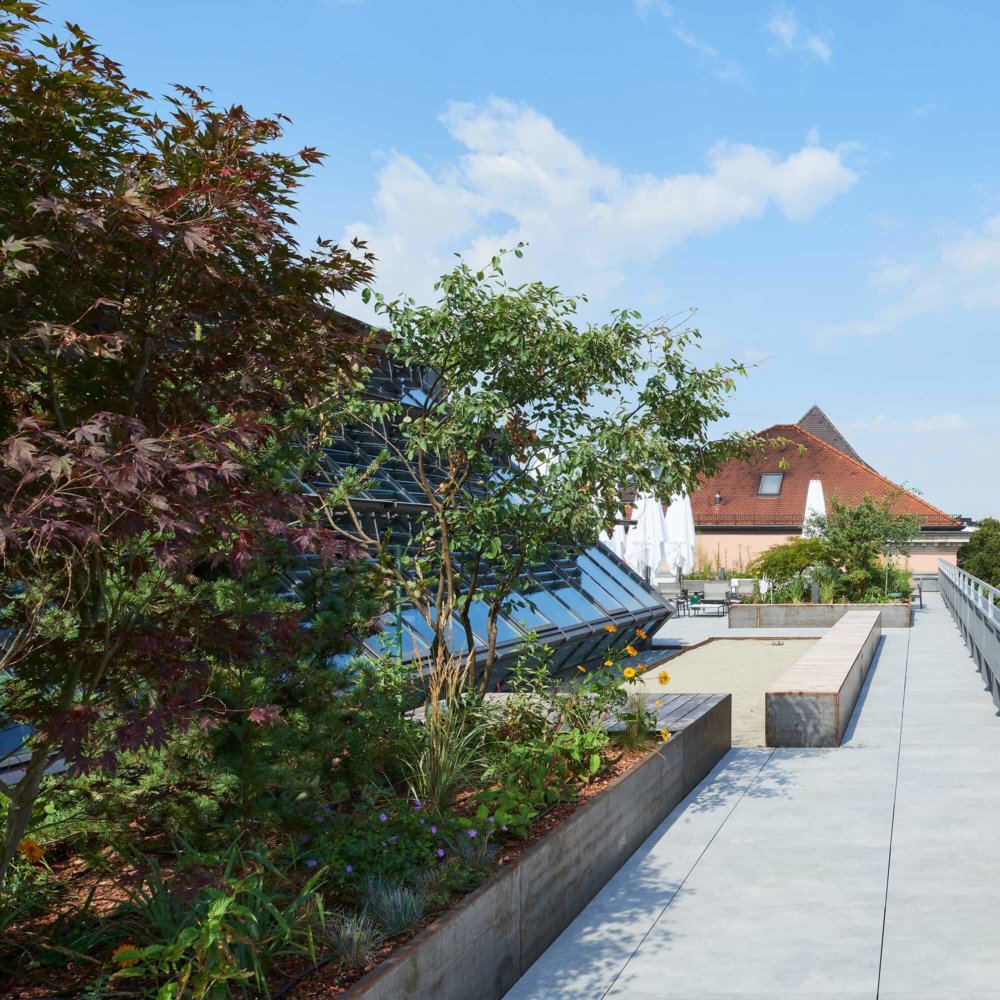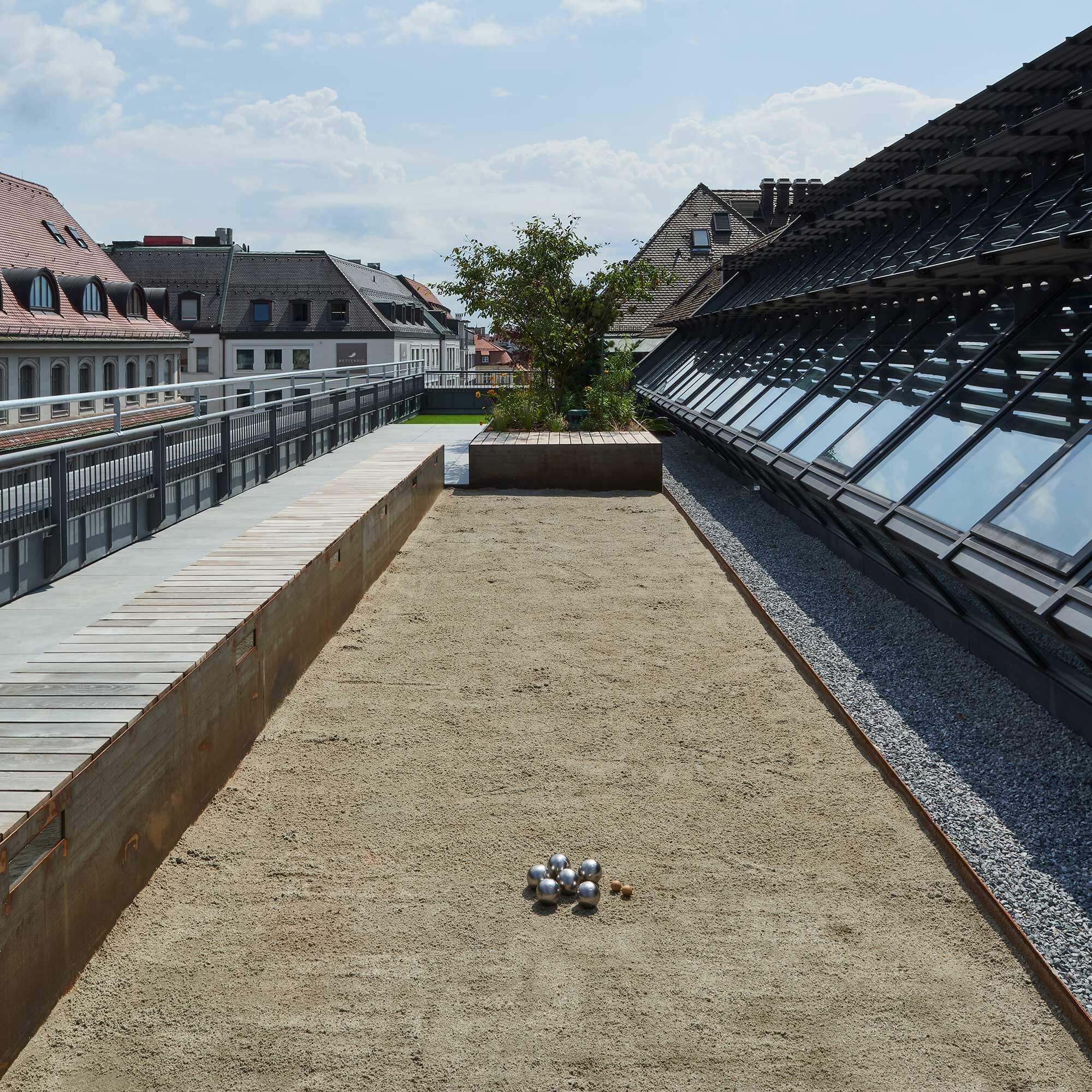 Boccia COURT & Leisure Court
TEAMSPIRIT & FAIR PLAY
As well as urban gardening as an opportunity to recharge the batteries, hartmanns also offers what is probably Munich's loftiest Boccia Court and a Leisure Court, encouraging team spirit, providing the chance to get to know fellow players better, and guiding guests to find beneficial inner calm through mind-body equilibrium.
outdoor Lounge
RELAX & CONNECT
The 450-sqm outdoor area at hartmanns with Outdoor Lounge is designed as a place to gather, take conversations to the next level and pursue fascinating discussions under the blue-and-white Munich sky. With extensive seating and large-scale weatherproof umbrellas, the spacious terrace can be used all year round and adds unique cachet to hartmanns as a location.